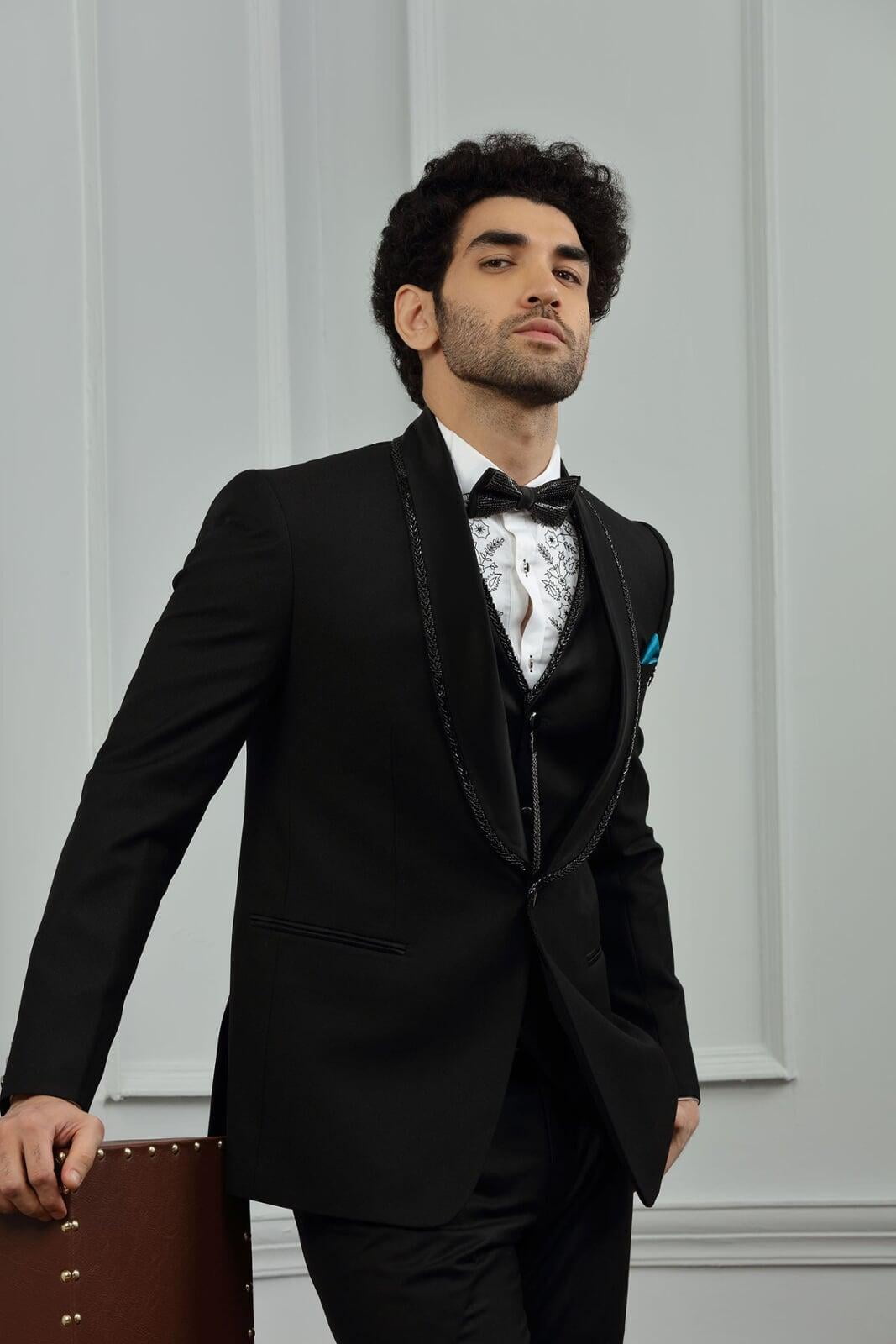 If you're looking for something a step up from the trusty navy suit, then consider investing in a classic black one. While this may seem intimidating, picking the right black suit is essential to any stylish wardrobe. If you decide to go ahead with black, pick a lighter fabric so that it doesn't look too heavy and opt for narrower lapels to give it a modern feel. Paired with the right accessories, this timeless look will make you stand out at any gathering!
You can't go wrong by keeping the colour palette simple with a black suit. Pick white or blue for your shirt instead of any bold patterns and skip the necktie for a more relaxed look. For shoes, anything from brown leather brogues to classic oxfords will add to the other timeless elements of this look. A pocket square is essential to finish off the look and make it stand out in all the right ways. With these few key pieces you can create a sophisticated, timeless aesthetic that will never let you down.
A black suit has wide appeal and is one of the few pieces of clothing that is appropriate for almost any occasion. Whether your plan involves a casual outing, or something more formal such as a job interview, you can never go wrong with the strength, sophistication and sophistication conveyed by a classic black suit. It's important to remember though that fit is key when it comes to wearing a suit properly. A tailored and properly fitted suit will reflect in the wearer's appearance, creating an air of confidence in whatever circumstances they may find themselves in.
When selecting a classic black suit, breaks down to personal preference. There are honestly suits out there for every individual's taste and desired style. A classic look should always have sharp, defined lines while more modern looks tend to be less structured, giving off a more relaxed feel. Suits materials also play an important role in determining the overall look and feel of your suit, and choosing fabrics that are both comfortable breathable is essential but also allows for classic styling. Finally for those special events or occasions where dressing head-to toe in black isn't necessary some will opt for a wide range of collared shirts from white and blue tones to patterned pieces that complement the colour of the suit itself.